Experimental Prototype Community of Tomorrow (EPCOT) once contained an incredibly unique and interactive assortment of attractions. These attractions represented the theme of the park well and were more aligned with Walt Disney's original dream for the park. Unfortunately for us, EPCOT has evolved in a different way and got rid of some fantastic attractions. Here are EPCOT's extinct attractions, the ones that are missed by many and the ones that many Disney fans wish they could have experienced.
CommuniCor (1982-1994) replaced by Innoventions (1994-Present)
First stop on our journey through EPCOT's past is CommuniCor. CommuniCor was two buildings that served as EPCOT's hub. It was the base of EPCOT and showcased a number of exhibits. These exhibits rewarded guests with fun interactive ways to dabble with technology. CommuniCor's exhibits included Compute-A-Coaster, the Great American Census Quiz, Get Set Jet, the Flag Games,  TravelPort, the Electronic Forum, Population Clock, FutureCom, Expo Robots, and EPCOT Outreach. Let's not forgot the interactive, friendly robot, SMRT-1 and the Backstage Magic experience. As you can see, there were an enormous amount of possibilities in CommuniCor. It really sounds like a guest could spend most of their day here. Along with all those exhibits there were also two restaurants located inside of the buildings, The Stargate Restaurant and the Sunshine Terrace. It's such a shame that CommuniCor has turned into what it is today, two empty Innovention buildings. CommuniCor exemplified innovation and technology. It really grasped the concept idea behind EPCOT which was to be similar to an all-year-round World's Fair. One can only wish that Innoventions will house something soon. It's sad to see empty buildings and areas knowing that there was once so much excitement there. Click here to learn more about the exhibits individually! Click here to check out footage from the closed attraction.
Horizons (1983-1999) replaced by Mission: Space (2003-Present)
Ah, Horizons. I am so dissapointed I never had the chance to experience this incredible attraction. Horizons was really one of a kind. It was a dark, omni-mover ride attraction that was meant to be the sequel attraction to Walt Disney's Carousel of Progress. This remarkable attraction took guests through life in different futuristic cities: Brava Centauri (space colonization), Mesa Verde (arid-zone agriculture), and the Sea Castle (ocean colonization). In each "city" the ride would depict several inventions that assisted the family in everyday life and assisted with making the world a better place. It was a slow-moving attraction that really took it's time explaining everything. Guests were guided and narrated by the voices of a married couple. This couple were the ones who were "owners" of the homes in the different cities. One of the more unique aspects of the attraction was the ending. At the time, this was the only attraction that had different endings. At the end of the journey, guests were able to select what path they wanted to take in order to get back to the space port. Their choices were between the three cities. The attractions encompassed EPCOT's true theme and meaning. It gave guests an educational look into a possible future. Also the fact that it was the sequel to Walt Disney's Carousel of Progress made it even more amazing. They actually play "It's A Great Big Beautiful Tomorrow" on the Horizons attraction. Do yourself a favor and click here to watch the ride through of Horizons. Mission Space does not live up to this iconic attraction at all. It was an incredible shame that they closed this attraction. Click here to learn even more about the astounding Horizons
Journey Into Imagination (1983-1998) replaced by Journey Into Imagination with Figment (2002-Present)
Before you start saying, "But this ride is still there," a version of it is, but not the original masterpiece. The first and original version first opened in 1983 and was beloved by many. There have actually been several adaptions of this attraction and many would agree that the original is the best. The one was have today is almost unrecognizable compared to the original. Journey Into Imagination was a lot longer. The one we have now is actually cut in half. It was also lead by the Dream Finder. This was a wonderful character that was cherished by many visitors in the park. Dream Finer used to actually appear in the park with Figment to meet guests. The entire ride really displayed wild characters and scenes that could only occur in one's imagination. The attraction flowed really well together and was all in all weird and fun. Every turn would surprise you. The attraction was what the title stated, a journey into imagination. It wasn't the excuse of a ride we have now. What we have now is just a journey into the human senses. What made this attraction even better was the Imagination Pavilion itself which is the post-ride building. The space used to be two floors that would contain a number of interactive activities and games for the guests. It gave them the opportunity to explore their own imagination. Unfortunately, now there is only one floor and the games here aren't as entertaining as they once were. People usually don't even stay behind because of the lack of activities. I never do, I always hop off the ride and head out. I wish I could have experienced this ride at it's former glory. It seemed like such a great attraction and a pavilion. One can only hope that they refurbish it again to make it somewhat similar to what it once was. Click here for a full ride through! Click here to learn more about the other versions and the pavilion.
The Living Seas (1986-2006) replaced by The Seas With Nemo and Friends (2006-Present)
The Living Seas was a look into a future where the entire world was under water. Guests were given the chance to experience this future in their "Sea Cabs," ride vehicles. From the videos and stories, this ride wasn't the most entertaining. Adults used to really enjoy this, but kids did not. The pre-show did drag on a bit. It was interesting to watch, but then I started asking myself, "Jeeze, when is this going to end?" The ride itself was very short and was just a look into aquariums. Even though the ride seemed extremely boring and not entertaining, it did showcase more of what EPCOT was truly about. The ride explored a unique possible future and in a very elaborate way. I think they could've done a lot more than just configure it to Nemo, but Disney movies always get the best of everything. The attraction is cute, but I rarely ever ride it. It also isn't necessarily educational, it's really just a chance for people to encounter Nemo and friends. It would be great to see a ride similar to The Living Seas again, but this time more entertaining for younger audiences and a bit more exciting. The ride vehicles could also be adjusted and not just move in one direction. Click here for a full ride through! Click here to learn more about the history!
Magic Journeys (1983-1986) replaced by Disney and Pixar Short Film Festival (2015-Present
This was a short film in the The Magic Eye Theater. Still unfamiliar with the theater? This same theater also housed Captain EO, Honey I Shrunk The Audience, and now houses the Disney and Pixar Short Film Festival. Magic Journeys took audiences on an adventure of looking at the world through a child's eyes. The theater is located in the Imagination Pavilion so it fit right in with that topic of imagination. This film was even played in other Disney parks around the world. It went along with the pavilion as a whole and the original Journey Into Imagination attraction. It was changed to the Captain EO 17-minute film in 1987. This was a 3-D sci-fi musical starring Michael Jackson. It doesn't really sound like it went with the theming of the pavilion, but guests did enjoy it. The film was changed again in 1994 to Honey, I Shrunk The Audience. This was themed after the box office hit, Honey, I Shrunk The Kids. I, personally, loved this attraction. I remember watching it as a little girl. It was a 3-D film that included Rick Moranis reprising his role as the famous Professor Wayne Szalinski. The audience gets "shrunken down" and has to deal with the struggles of being tiny. It was a lot of fun and went more with the theming of the current imagination attraction. Szalinski is still shown and mentioned on Journey Into Imagination With Figment. Today there is a Disney and Pixar Short Film Festival shown in the theater. The shorts often change which is cool. It's not a bad idea to showcase this in the Disney parks, but it does not belong in the Imagination Pavilion. Bringing back something similar to Magic Journeys would fit better into the pavilion. It just seems like Disney wanted to put these somewhere and decided to use this theater as their location. It doesn't seem like they truly thought about theming in this situation. Click here to learn more about the history of the theatre and the different films that were shown!
World of Motion (1982-1996) replaced by Test Track (1996-Present)
World of Motion was an omni-mover attraction that would take guests through the history of transportation. It was a light-hearted attraction that contained 30 different scenes. The music was also a large part of the attraction as the same theme song, "It's Fun To Be Free", was a played, but would change due to the time periods you were traveling through. The attraction looked to be very similar to Spaceship Earth except it's main focus was transportation and the ride shape was different. The ride through was educational and entertaining. It was interesting to see how we've come with our different modes of transportation. The finale of the ride would show what future transportation would be like. Guests would be "put into" these futuristic ride vehicles through a ride effect similar to the one used at the end of the Haunted Mansion. After the ride guests were able to play several car games and have the opportunity to design their own futuristic vehicles. Sadly, we no longer have this fun journey of an attraction. Test Track took its' place in 1996. The version we currently have is where guests get to test the car they constructed while waiting in the queue. This version is okay, but I never feel like riding it anymore. It's not as educational as it once was. The post-ride games and activities are pretty cool, but the ride itself is boring to me now. The World of Motion concept was entertaining and interesting. I know I would've ready enjoyed an attraction like that. Click here to learn about the attraction's history! Click here for a full ride through!
Wonders of Life (1989-2007)
Wonders of Life was a pavilion dedicated to health and the human body. It was kind of a strange concept, especially for EPCOT, but it did exist. If you've attended EPCOT's Food and Wine Festivals then you have been inside this pavilion before. This space is used to house some of the food booths, gifts shops, annual pass holder pins, and more. It's located in between the soon-to-be Guardians of the Galaxy roller coaster and Mission Space. The pavilion contained three attractions: The Making of Me, Body Wars, and Cranium Command. The area inside was pretty similar to CommuniCor except it dealt with health and fitness. The pavilion was meant to be both educational and fun. Body Wars was pretty much a Star Tours-like attraction that would shrink guests so they could explore the human body. It was a different kind of concept, that's for sure. Cranium Command was an audio-animatronic show that allowed guests to experience sitting inside the "control center" of a 12-year-old boy's mind. The boy would experience several issues that included bullying, love issues, school stress, and more. It was a really interesting show and would touch on some sensitive topics. The Making of Me was a short film that would pretty much describe, well, the making of a person. I've heard from several people that this show was really weird and uncomfortable to watch. It showed a boy's parents falling in love and then his mom birthing him. There wasn't anything too graphic in the film, but it wasn't for everyone. Like I said before, this pavilion is only used for the festivals now. Apparently, Body Wars is still in the pavilion, just not in operation. Click here for more information on the pavilion as a whole!
Kitchen Kabaret (1982-1994) replaced by Soarin' (2001-Present)
It's honestly hard to believe there was a show like Kitchen Kabaret at EPCOT. Before it was transformed into Soarin, they refurbished it to Food Rocks which ran from 1994 till 2001. Kitchen Kabart was an audio-anamotronic show starring food. It was a musical that took place in Bonnie Appetite's kitchen, a audio-animotronic girl. This show would encourage guests to eat healthy. It was educational, different, and hilarious. Food Rocks was very similar except the songs were no longer completely original. They were like parodies to popular songs. Both of these versions looked to be incredibly enjoyable to watch. I actually vaguely remember watching Food Rocks as a little girl. This is another attraction that is rumored to still be there behind the walls of Soarin. Click here to watch Kicthen Kabaret! Click here to watch Food Rocks! Click here to learn about the history of both!
Universe of Energy (1982-2017) going to be replaced by Guardians of the Galaxy
As many of you know, this ride just recently closed to make way for a new Guardians of the Galaxy indoor roller coaster. It was not a very popular attraction towards the end of it's lifetime. The attraction was refurbished just once during it's run. When it originally opened in 1982 the attraction showed guests a number of films to educate them on the topic of energy. The vehicles that would transport guests were powered by the solar panels on the outside of the attraction. There was also a section of the ride that would take guests through an animatronic pre-historic period. The pre-show was 10-minutes and the actual ride duration was 45-minutes. It was actually very popular in those first couple of years that it opened. The attraction closed in 1996 to add Ellen DeGeneres and Bill Nye. The attraction's pre-show and films would change entirely. It was now Ellen dreaming that she was on an episode of jeopardy where Bill Nye would help answer several energy-themed questions. An animatronic Ellen figure was also added into the pre-historic scene. I rode this attraction several times. It was enjoyable, but would just take up too much of my time when I was in the park. The concept of educating guests on energy was great and I really liked that the ride vehicles were controlled by the solar panels, but the ride itself was just too long. I think they could've be done a better job than just closing it to make a Guardians roller coaster. Not that I'm not excited for it, but I don't think it belongs in EPCOT. Click here for history on the ride! Click here for a ride through!
Maelstrom (1988-2014) replaced by Frozen Ever After (2016-Present)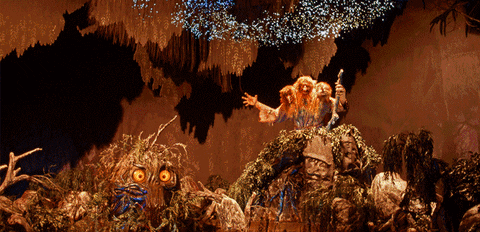 Okay, I love Frozen, but c'mon. Maelstrom was one of my favorite attractions in EPCOT. I loved that you were able to learn about the vikings and ride through this daring, dark ride. Guests boarded a boat that then took you on a journey of Norway's history and folklore. One of the most known parts of the ride was going up to the waterfall that faced the Norway pavilion and then falling backwards to then get lightly splashed. It was a really cool attraction because there wasn't another one like it. You were able to learn some history and a enjoy yourself at the time same time. Only two countries have rides, that is Mexico and Norway. When they first announced that Maelstrom was closing to make way for Frozen, many fans were upset, especially adults. This was such a classic attraction. I really wish they could've made a Frozen attraction somewhere else. It's just a shame they took out this true Norway-themed attraction and slapped on Frozen. It's similar to what they did with Nemo and the Living Seas. The ride isn't bad, it's just annoying that you're exploring an interesting country and Frozen is just thrown at you all over the pavilion. Click here for a full ride through! Click here for the history of the attraction!
There you have it, the history of EPCOT's extinct attractions. Honestly, EPCOT is a mess right now. It's really lost sight of it's true theming. I don't even find myself drawn to attend this park as much because of their subpar attractions. It's time Disney starts devoting some more time to this park. It just turned 35 years old and the park is really lacking. Let's not forget that this is supposed to resemble a year-round World's Fair. This park was once a fantastic, unique experience. It's such a shame that now most people just come for World Showcase and/or it's festivals. Hopefully EPCOT will return to it's formal glory one day. At least we have the opportunity to remember this park for what it once was through videos and photos.