This is the hardest thing I have ever had to do. This show is my favorite show of all time. I have re-watched it more than 15 times. If you are also a massive fan of the show you can understand how hard this article was to write. These are not ranked in any particular order, just my top 10 favorite episodes. It was incredibly hard to try to rank them, so I didn't. Everything written is just my opinion.
1. Threat Level Midnight: Season 7, Episode 17
How can I not talk about one of the best films ever made? Threat Level Midnight encompasses all of who Michael Scott is. This episode brings the whole office together to watch a "Michael Scott home movie" as Pam calls it. Threat Level Midnight is so bad, it's hilarious. From the first gun scene to Toby getting his head blown off, you will be on the floor laughing. The episode also brings back some old characters including Carol, Helene, Karen, Jan, and Roy. This is one of the few times the whole office is enjoying each others company without any brawling. It is an episode you can always re-watch and laugh as much as you did the first time.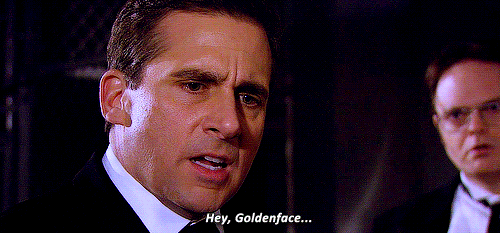 2. Dinner Party: Season 4, Episode 9
This is one the awkwardest episodes in the show, but incredibly hilarious. Here we see Pam, Jim, Angela, Andy, Dwight, and Dwight's babysitter go over Michael and Jan's for dinner. Michael had been trying to invite Jim and Pam over for dinner several other times, but they've always gotten out of it. Michael finally tricks them into coming over and Jim gives him credit for it. As the night unravels we see how incompatible Jan and Michael are. The tour of the house establishes that fact and also that Michael sleeps on a tiny bench. Michael has clearly told Jan about a fake relationship he had with Pam in the past and Jan is constantly giving her a death look the entire night. The episode is filled with ups and downs, especially when Dwight shows up with a date, his old babysitter. You won't be able to stop laughing and will be rooting for these two to split.
3. Casino Night: Season 2, Episode 22
In my opinion this is one of the most relevant episodes of The Office. The whole point of Casino Night is to raise money for several charities, Michael chooses aids. There are a couple of scenarios happening in this episode. Michael inviting both Jan and Carol to the event and Jim pondering the thought of transferring to Stanford. The reason this made my list is because this is the episode where Jim tells Pam he's in love with her. At first, she's taken back and a little upset. Later on we see her on the phone with her mom talking about the situation in a more positive manner. Jim, then, walks in and kisses her. Pam kisses him back. It's a scene we had all been waiting for.
4. The Dundies: Season 2, Episode 1
Ah, the Dundies. Of course, how could I not include this gem? This episode is Michael Scott giving out superlatives to his employees. Dwight does the sound effects and music for the Dundies, that takes place in Chili's. One of the hilarious bits of this episode is drunk Pam. After getting into an argument with Roy, she comes back into Chili's and gets very drunk. Jim is enjoying every minute and can't stop smiling at how silly Pam is acting. It's adorable seeing how happy he is around her. Her hyper energy is what helps Michael continue the Dundies after someone from the restaurant insults him. It is also what gets her band from the restaurant chain, which is one of the most known scenes from the show.
5. Michael Scott Paper Company: Season 5, Episode 23
The episode that had its' own intro. Some of you may have forgotten about this episode. I know it isn't as notable at the Dundies or some of the other ones on this list, but it is one of my favorites. This episode is after Michael has left his job at Dunder Mifflin. Pam quits with him to follow him on his new journey with starting a paper company. This episode mainly focuses on Michael, Ryan, and Pam attempting to make it as a business in their small office space. They struggle throughout the episode and even give away square shaped pancakes to attract customers. Although, in the end, they end up making their first sale and their small company takes off. It is hilarious seeing these three work together in such a small space, but great to watch them get along in the end. 6. Niagara Part 2: Season 6, Episode 5
THE EPISODE THAT MADE EVERYONE LAUGH AND CRY. JIM AND PAM'S WEDDING. I cry every time I watch this beauty. I didn't include Part 1 just because Part 2 is so much more better and relevant to the show. The night before her wedding Pam has to deal with Andy and his torn scrotum, which is one of the more comical parts of the episode. The rest had me in tears of joy. The day of their wedding Pam tears her veil and to make her feel better Jim cuts his tie. It is too adorable. They then proceed to sneak away to a boat sailing by Niagara Falls. We don't see this until their wedding at the church begins. Along with the dance sequence, we see flashbacks of Jim and Pam getting married before on the boat. After watching this episode you'll be thinking of their wedding every time you hear "Forever" by Chris Brown come on.  My favorite part of this episode is at the end when Pam's head is on Jim's shoulder as they're looking out into the falls.
7. Stress Relief Part 1 & 2: Season 5, Episodes 14 & 15
These two episodes make me laugh out loud every single time I watch them. Clips of these episodes are always posted on Twitter, Facebook, or Instagram. I really wanna know how they filmed the first several minutes and if they broke into laughter every five seconds. The intro of Part 1 consists of Dwight staging a fire in the building and everyone proceeding to freak out. Angela throws her cat into the ceiling, Kevin breaks the vending machines open, Michael breaks a window, Oscar tries climbing through the air vent, and Stanley has a heart attack. The whole sequence will have you laughing the entire way. There are several other scenes that will have your stomach hurting from laughter; Michael attempting CPR, Dwight cutting the face off the dummy, and the Michael Scott Roast. Part 1 and 2 are two of the funniest episodes in this series and that is saying a lot.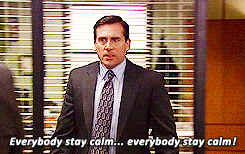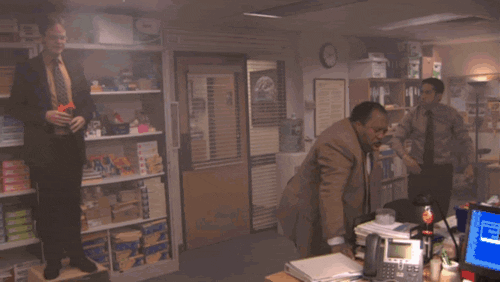 8. Michael's Last Dundies: Season 7, Episode 21

Okay, this is one of the saddest episodes of The Office. I am sure a lot of us can agree with that. The Dundies is Michael's baby, so seeing him host his last Dundies was heartbreaking. He co-hosts it with D'Angello, the soon-to-be manager. Dwight is highly offended throughout the episode because he wanted to be the co-host. The beginning of the episode features Michael and D'Angello hand delivering Dundie nominations to all the employee's homes. This results in an angry Stanley and a sloppy Meredith. The rest of the episode is bitter-sweet as Michael presents all the awards. The most touching part of the episode is when the whole office sings their version of "Seasons of Love" to Michael. It is definitely a tear-jerking moment. Wait till the end of the episode for one last award called "the extreme repulsiveness award" that is given to Toby. Jim shoves him to receive it as it is Michael's last Dundies, which he does.
9. Garage Sale: Season 7, Episode 19
Some of you may read this and not remember the episode by its' name. "Garage Sale" is the episode where Michael decides to propose to Holly Flax. Pam helps Michael throughout the episode on trying to come up with the perfect way to ask Holly. Unfortunately we also learn that Holly needs to move back to Colorado. This means Michael will have to make a choice. He declares his choice with a giant romantic gesture that results in the fire sprinklers going off. By re-creating one of their first conversations, Michael asks Holly to marry him in a Yoda-style voice and she answers in the same voice.  It is heart-warming and tear-jerking to finally see Michael Scott ending up with the woman of his dreams.
10. Office Olympics: Season 2, Episode 3
"Office Olympics" is one of early episodes of the show. This episode brought the office together in a way they hadn't been shown before. We saw Phyllis leave her desk to race on boxes of paper. She even made a snarky comment to Jim where he replied "Phyllis coming alive, I like it." It was fun seeing them joking around together. The episode was a glimpse of how the rest would follow. Michael and Dwight were out signing the final papers for Michael's condo and didn't participate in the olympics. Although, they did make it for the closing ceremonies. The whole episode is a bonding exercise with office employees that would soon become family. Let's not forget, Creed still has his medal from it in the series finale.