Merry Christmas! Have you been Impish or Admirable? If you love The Office, then you love The Office Christmas episodes. They're each unique and always contain some kind of abnormal event…which is like every episode of the show. Anyway, I ranked their Christmas episodes from worst to best! You should totally binge them after this.
7. Christmas Wishes (Season 8)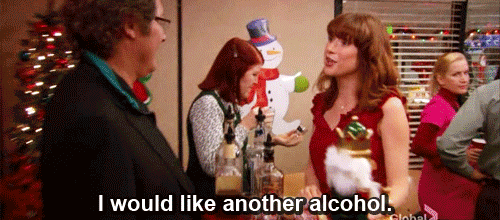 It's the first Christmas party with Andy as the manager and he wants to grant everyones' holiday wishes. This episode wasn't horrible, but it wasn't great. For starters, Michael was gone. Robert California gave me the creeps at times, Andy got on my nerves in this episode, and Pam was not in this episode. The only good points of the episode are Erin getting drunk and the "no-prank" war between Jim and Dwight.
6. Benihana Christmas (Season 3)
This episode starts off with Carol breaking up with Michael because he photoshopped himself into a picture with her, her ex husband, and her kids on a ski trip for his Christmas card. It was a very a "Michael-thing" to do, but pretty weird. There are some comedic parts of this episode, but overall it was pretty cringey. Karen and Pam make an unlikely alliance against Angela and throw their own Christmas party in the break room. That was all types of weird for so many reasons. Even Jim thought it was odd. Jim, Dwight, Andy, and Michael go to Benihana to try to make Michael feel better. Of course, Dwight gets sat far away from them and is unable to listen or get involved in the conversation the rest of the group is having. Andy and Michael decide to bring back two of the waitresses from the restaurant. To top off the weirdness happening in this episode, Michael marks one of them so he will be able to tell them apart. I, personally, was not a fan of season 3 and not much really makes me love this episode. Of course, there are some comedic parts, but overall not my favorite.
5. Dwight Christmas (Season 9) I know, another Christmas without Michael. This one was a lot better than the other one though. It is the last Christmas at Dunder Mifflin and they really do go out with a bang. Cheer or fear Belsnickel is here! Dwight dresses up as the Pennsylvania Dutch Christmas version of Santa Claus and it is amazing. It is a terrible Christmas party with terrible food, but Jim loves every second of it. There isn't anything terrible about this episode besides the fact that Andy and Michael aren't there. Darryl also gets annoying at the end when he drunkenly tries to confront Jim then falls on the food table. Other than that, it's pretty emotional because Jim is starting to work for his new job and the show itself is coming to a close. It was the perfect last Christmas party.
4. Classy Christmas (Season 7)
Holly's coming back!! The moment Michael Scott had been waiting for. The woman he loved was coming back to the Scranton branch. Only temporarily, but he was still ecstatic about. Everyone in the office is happy the day of the original Christmas party which proved that Pam was doing a great job as office administrator. Even Stanley is in a fantastic mood. Although, Michael ruins it by throwing away everything and asking to plan a whole other party for when Holly arrives. I'm not going to lie Michael's crazy reaction kind of annoys me. He's also extremely petty when he finds out Holly is still with AJ. In the midst of Holly coming back there's a snowball fight between Dwight and Jim that causes Jim to go a little crazy. Pam is also asking for her co-workers opinion on her gift for Jim, which was a cartoon book with him as "Bear Man." Even though there are some sad parts of the episode it ends on a happy note. Jim gives Pam the most beautiful gift, something he couldn't make, a gorgeous diamond necklace. Michael cleans up Holly's Woody doll and changes his mood to a more positive one. Dwight wins the snowball war by making Jim go insane at the end of the episode.
3. Secret Santa (Season 6)
Classic Michael. This was around the time Jim was co-manager along with being head of the party planning committee with Dwight. They were definitely the best ones out of all the reigns of the committee. Jim and Dwight allow Phyllis to be Santa, a role she has always wanted to play, but no one gave Michael the message. Of course, he is not happy with the situation and derails from there. He proceeds to be obnoxious and ruin the Christmas party mood. During this time Dunder Mifflin was going bankrupt and the future of the company was in jeopardy. Michael gets so upset at everyone that he turns his Santa suit inside out to dress up as Jesus. This just irritates everyone even more, except for Angela, so he calls David Wallace. Michael finds out some unfortunate news and decides that everyone in the office needs a "Michael." This ends the Santa war between him and Phyllis. Of course, things turn out to be okay and they learn that everyone's jobs are secure. The party continues on with everyone in a great mood. Let's not forget one of the best parts of the episode was Kevin sitting on Michael's lap.
2. Moroccan Christmas (Season 5)
This Christmas party was all-types of crazy. The good kind of course. Phyllis is head of the party planning committee because she is blackmailing Angela, Dwight is selling Princess Unicorn dolls for a large profit, Meredith's hair catches on fire, Michael tries to check her into rehab, and everyone finds out about Angela and Dwight's affair. All those moments make this episode one of the top ones. I know you were all cracking up when Michael and Meredith were wrestling in the parking lot of the rehab center and when Toby was about to cry if he didn't get a doll. Honestly there isn't anything to complain about this episode. I liked that they shined some light on Meredith's character, even if it was trying to get her to admit she was an alcoholic.
1. Christmas Party (Season 2)
Of course the best one is the first one. This episode tops the cake with its' silliness and cuteness. It's the first Christmas party we encounter at Dunder Mifflin and it is a great. This is the first time these office co-workers serve liquor at an office party (15 bottles of vodka to be exact). Michael is being Michael and changes Secret Santa to Yankee Swap. This causes a lot of annoyance and frustration among the employees, but it's hilarious to watch. Poor Phyllis and her oven mitt. Michael and his digital camera have you cracking up the entire time, especially when he snaps a picture of a topless Meredith. Packer is even there! The topping on the cake of this episode though is the tea pot. Yes, the tea pot. The sweetest, most thoughtful gift I have seen was that tea pot. I loved it even more when Pam switched a $400 for that teapot. I'm sure we all teared up when she said "Yup, I think I made the right choice." Let's not forget that little card from Jim comes up again in the second to last episode of the last season. We never know what's written in there, but I'm sure it would make us cry.